Scale: 1 / 35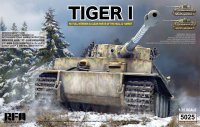 The kit's background
This Tiger kit from Rye Field is something of a "de luxe" edition, having a full interior and some transparent body panels to display it. The tracks are provided as 3-piece individual links.
The six optional transparent panels comprise the upper faces of the hull and the entire turret shell. They can be mixed with opaque panels as desired. They omit some equipment from the inside turret walls to aid visibility.
The kit builds an "Early" Tiger issued in the period March - May 1943. The interior parts are inherited unchanged from a previous Rye Field kit, "Eastern Front Tiger" kit. None of the faults in that kit's interior have been corrected here.
Decals for two of Michal Wittmann's Tigers are provided: "1331", his mount during the Battle of Kursk, and "S04" which featured in a photo shoot of him and his crew. The kit's interior is a much more accurate rendition of "1331" than of "S04".
There is an upgrade set, "Engine pipeline parts", that provides much of the detail that is missing from this kit's engine room.
My ongoing review and comments;
These are other reviews of the kit;
TIGER1.INFO is not responsible for the content of external sites.