Scale: 1 / 35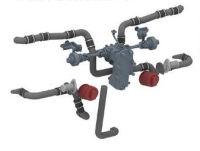 Rye Field Model sell five Tiger 1 kits with interiors (including a Sturmtiger). The first four kits were criticised for omitting significant items from their engine compartments. Rye Field eventually released this "Upgrade solution" to address the problem.
This "solution" is appropriate for the Tiger's first type of engine, the HL210. It is therefore intended only for two kits, "Tiger 1 s.Pz.Abt.503" and "Wittman's Tiger Early Production".
This product is named "Engine Pipeline Parts" and does not provide all of the items missing from the kits. It has the water pipes, the fan drives, the exhaust connectors, the ventilation riser and two brackets of the submersion gear. It does not provide baffle plates for the fans, the snorkel storage tube, the pressure relief pipeline, or details for the underside of the engine hatch. The latter two items would be obvious when the engine hatch is open.
My ongoing review and comments;