About this detail of the Tiger
When the turret is lifted from a Tiger, it reveals a flat ring surrounding the opening in the hull roof. The ring has a pattern of holes. There are several versions of the ring because its design was changed over time.
This is the first version of the ring. This CAD model has 24 bolt holes and a few openings for turret mechanisms. We are looking at the ring from above the driver's position.
If you lift the turret from a Rye Field Tiger model to see the interior, the same area on the model is revealed. Rye Field have represented this ring on their models.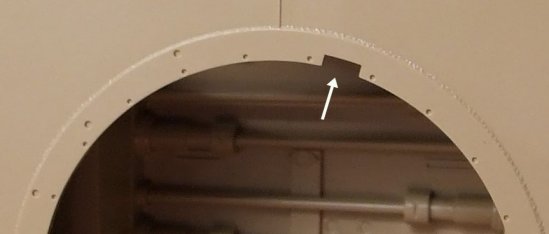 The model's ring has two notches, like this one, for locking the turret into place. Of course there were no such notches on a real Tiger.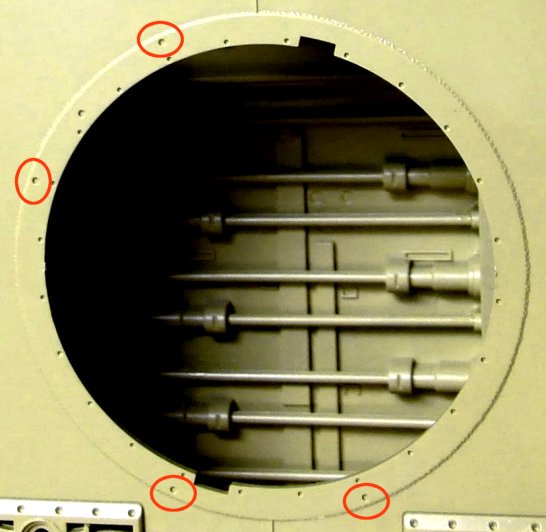 Rye Field's ring has the necessary bolt holes, but it has some differences from the real thing. Of the three special openings, Rye Field give us only one. They also put 4 holes (marked here) on their ring that don't exist on real Tigers.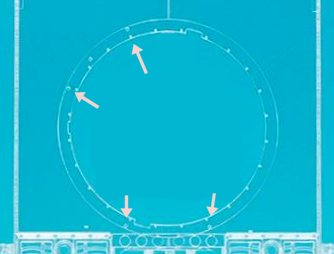 Rye Field's ring does resemble that on "Initial" Tigers. It is less appropriate for tanks built after Spring 1943 because they had improved rings with more bolt holes etc. Nevertheless, Rye Field copied their ring without changes into all four of their Tiger interior kits.