Scale: 1 / 35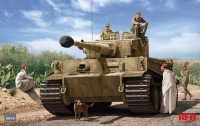 This kit builds an "Initial" Tiger, a type that served only in Tunisia under Panzer Army 5 (not Rommel's Afrikakorps). Although few in number, these Tigers are well known and several kits are dedicated to them. This is the only kit that provides an interior. It also has some 3D printed parts, which I believe is a "first" for Tiger kits anywhere. Photo etch, a cable, and individual-link tracks complete the contents.
The decals cover a single Tiger that bore two different numbers on different dates. Both numbers are provided on the decal sheet. The kit's exterior models that Tiger with a high degree of accuracy. The kit's painting guide is questionable, and it has a few decals that were not present on the real Tiger.
Rye Field have made Tiger interiors their speciality, and this kit boasts their most comprehensive Tiger interior yet. But it has accuracy problems. It is an "Early" interior inherited from a previous kit, and some changes necessary for an "Initial" interior have not been made. Also, the old kit had a number of accuracy problems, most of which have not been corrected.
Rye Field provide a new turret shell, because the equipment storage on its inside is the primary difference between Early and Initial interiors. But information about this had not been researched when Rye Field designed the kit. Consequently the turret inside wall is sparsely equipped and requires some scratchbuilding to complete it.
There are other Rye Field kits related to this one. #5001U "Tiger 1 Initial Without Interior" is the same kit without the interior, and with a wider selection of decals. "Tiger 1 Initial Production" was Rye Field's first release, and is now obsolete because the two kits already mentioned add many corrections to it. An upgrade set #2007 "Engine pipeline parts" augments Rye Field's older Tiger kits with some internal parts that they omitted. It is included in this kit #5050.
My ongoing review and comments;
These are reviews or examinations of the kit;
TIGER1.INFO is not responsible for the content of external sites.