Scale: 1 / 35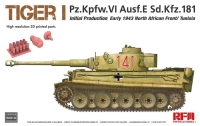 This is a new release from Rye Field Model, and my comments are still being written. The kit builds some of the first Tigers that served in Tunisia. It is apparently an upgrade of Rye Field's first ever kit, "Tiger 1 Initial Production".
Rye Field have improved or corrected many of the features of that first kit, adding a new sprue and some 3D printed parts. They have also released a version of this kit with an interior, the much more comples #5050 "Tiger 1 Initial With Interior".
The large decal sheet of the original release is still included here.
My ongoing review and comments;
These are reviews or examinations of the kit;
TIGER1.INFO is not responsible for the content of external sites.