Scale: 1 / 35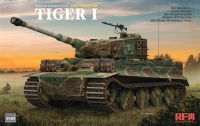 ---
The subject
The "late" and "final" versions of the Tiger were distinguished by their tyreless road wheels. The tank overall was simplified when compared to earlier versions. It lacked the Feifel and S-mine systems, but its roof-mounted grenade launcher was an improvement over the latter.
Tigers of this type served in a number of units until the end of the war.
---
The kit
This kit is essentially a re-release of Rye Field's "Late Tiger" with the addition of a complete interior, comprising both engine and crew compartments.
The interior is essentially the same one from Rye Field's "Mid Tiger" but with new parts in the engine compartment. There is now a realistic amount of pipes and auxiliary equipment in that area.
The crew compartment of this kit, like that of the "Mid" kit, has many inaccuracies. It includes parts and features from "Early" Tigers that should not be there. This is a disappointment because a "Late" Tiger exists in a museum and many of these problems could have been avoided by reference to it.
My ongoing review and comments;