Scale: 1 / 35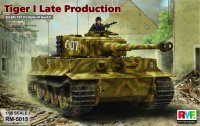 This Late Tiger kit has enough optional and spare parts to build almost any flavour of "Late" Tiger, including Command Tigers, but not the very first vehicles without the turret protection ring. Some cutting and filling is necessary for many versions. It has 4 decal options, including the famous Tiger "007" which it renders accurately.
The kit provides no Zimmerit but does have PE tools for patterning it. The tracks are individual-link workable, 216 links with separate guide horns and plastic pins. The track sprues act as tools to aid track assembly.
This kit competes with Trumpeter's "Late Tiger", Dragon's "Wittmann's Last Tiger" and Tamiya's "Tiger I Late Production".
My ongoing review and comments;
These are reviews or examinations of the kit;
TIGER1.INFO is not responsible for the content of external sites.