Scale: 1 / 35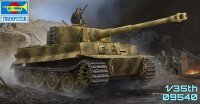 This kit builds the final version of the Tiger tank. It is a relatively simple kit with no version options. Zimmerit is provided in the form of thin plastic sheets, giving you the option of making your own Zimmerit if desired (two mantlets are provided, one with and one without this finish.) The tracks must be assembled from rigid plastic 1-piece links with integral solid guide horns. There are 5 decal options. No interior is provided and there seems to be no provision for adding an interior in the future.
My ongoing review and comments;
These are reviews or examinations of the kit;
TIGER1.INFO is not responsible for the content of external sites.