Scale: 1 / 35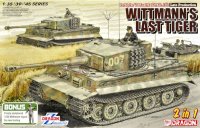 This kit is in fact the latest incarnation of Dragon's Late Tiger with Zimmerit. It has the same molded-in Zimmerit body panels. It adds a Wittman figure, the "Y" and "D" sprues from the similar Cyber Hobby kit, plastic antennae for a Command Tiger, and an external MG. It omits the older kits' metal tow cables and transparent parts (opaque periscopes have been added to the P sprue).
It is not 100% certain what kind of wheels were fitted to Tiger "007". Like all other "007" kits, this one follows the consensus and provides "steel" wheels.
Besides Wittman's "007", the decal sheet provides for five other Tigers, all standard tanks in s.SS.Pz.Abt.101. Because of the "steel" wheels, the decals for Tiger "304" are not correct.
These are reviews or examinations of the kit;
TIGER1.INFO is not responsible for the content of external sites.