Scale: 1 / 35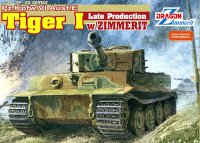 The kit's background
This is a complementary kit to Dragon's Late Tiger.
This version has preformed Zimmerit surfaces. In most other respects it is similar to the non-Zimmerit kit, but it builds a standard Tiger. There are 6 sets of decals; 4 new, and 2 carried over from the other kit.
One-piece flexible tracks and photo-etch air vent covers are included.
My ongoing review and comments;
These are other reviews of the kit;
TIGER1.INFO is not responsible for the content of external sites.