Scale: 1 / 35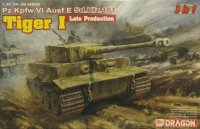 The kit's background
This is a rerelease of Dragon's original late-model Tiger kit.
The original kit was a premium release, notable for the extras provided in the box. This release has been brought into line with the rest of Dragon's range.
The kit includes one-piece flexible tracks, metal air vent covers, metal cables, and a sheet of photo-etch. There are parts to build either a standard Tiger or a Command Tiger (Befehlstiger). Six sets of decals are included.
My ongoing review and comments;
These are other reviews of the kit;
TIGER1.INFO is not responsible for the content of external sites.