About this detail of the Tiger
The starter crank of a Tiger was made of two parts, a shaft and an L-shaped handle. The shaft was stored on the lower rear hull wall as of early 1943, but the handle did not get its own storage clips until about October of that year. It was then placed on the hull roof, immediately ahead of the antenna on the right-hand side.
But this position was not available in Command Tigers due to other Command equipment added there. We don't have conclusive evidence of what was done about the L-shaped handle on Command Tigers, but some photographs suggest that it was simply moved to the mirrored position on the other side of the hull.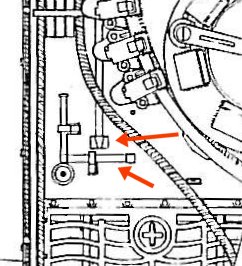 This diagram shows where we think the starter handle was stored on Command Tigers. Even if your kit does not tell you to put it here, we believe that you should do so.
In a Late Tiger you will have no problem fitting the part here, but in a Mid Tiger it may collide with the crowbar. This is because the real crowbar was slightly forward of where some kits place it. The diagram shows the end of the crowbar too.
In Dragon kits, this L-shaped handle is part P29 and the crowbar is part Y4.