Scale: 1 / 35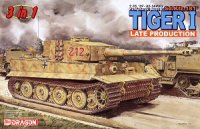 This is the first "Late" Tiger kit from Dragon Models. This model of the Tiger E is notable for the extras and metal parts that are provided. They include; photo-etch versions of all fenders and exhaust shields; a turned metal gun barrel; metal 88mm rounds with plastic transport boxes; and a commander figure. The tracks are individual links.
In addition, the kit builds either a standard Tiger or a Command version (Befehlstiger). The decals represent multiple tanks of s.SS.Pz.Abt. 101 and s.Pz.Abt. 508.
There are optional parts to make Tigers of any build date from February 1944 through to the end of production. Both the one-piece and two-piece turret roofs are provided.
The "Late" Tiger was heavily involved in fighting on all European fronts in the latter half of WW2. The tanks covered by this kit's decals operated in northern France and central Italy.
My ongoing review and comments;
These are reviews or examinations of the kit;
TIGER1.INFO is not responsible for the content of external sites.