Scale: 1 / 35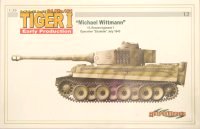 This kit represents a specific Tiger; that of Michael Wittman when he led a platoon at Prokhorovka, part of the huge Battle of Kursk.
Kursk was the turning point of the Second World War. This titanic clash of German and Russian forces took place in July and August 1943, south of Moscow.
No photographs of Wittman's Tiger (number 1331) are currently known, so the kit is modelled after the other Tigers in his platoon. It is assumed to be one of their more recent Tigers; a May 1943 build, with a HL 210 engine.
The kit includes individual link tracks and a turned metal gun barrel.
My ongoing review and comments;
These are reviews or examinations of the kit;
TIGER1.INFO is not responsible for the content of external sites.