Scale: 1 / 35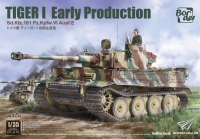 The kit's background
This kit is a new release and we have seen only the first batch, which contain bonus material.
The Tiger version built by the kit is January 1943. There are not enough optional parts to make earlier or later Tigers than that. With a little modification you can build Tigers produced as late as March 1943, but it is difficult to take the kit outside that 3 month range. The supplied decals represent many Tigers from outside that period, therefore the finished model is not suitable for all of its own decals.
The kit includes minimal interior detail, link-and-length tracks with open guide horns, several different turret bins and mantlets, and a generous supply of accessories. That includes unditching logs and barbed wire, as used by s.Pz.Abt.505. There are two PE sheets. The first 1000 units include a replica German medal; the Knight's Iron Cross with double swords silver oak leaf. There is a metal gun barrel and turned metal smoke pot launchers; it's not clear if they will be always included.
My ongoing review and comments;
These are other reviews of the kit;
TIGER1.INFO is not responsible for the content of external sites.