Scale: 1 / 48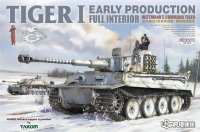 [1]
[2]
[3]
[4]
---
The kit
This is a medium-scale Tiger kit with a full interior. It is newly released, and we are still dependent on CAD images to illustrate it. This page will be updated when more information becomes known.
The kit builds a rare variant of Tiger, the "Command Tiger". The build date of this kit's Tiger is "Early" from April 1943. It's not yet clear if later or earlier versions can also be built.
There were several real Tigers of this type. but this kit has decals for only a single tank, Tiger "S04" as seen in Michael Wittman's famous photo shoot. "S04" is already the subject of 1/35 kits from Tamiya, from Dragon and Rye Field, but Ustar are breaking new ground by attempting the "Command" interior, and in a smaller scale.
The kit has two paint schemes, depicting this one Tiger on two different dates, with two different colourings. The kit apparently labels one scheme as "September 1944" but in reality it was September 1943.
---
Accuracy
Because of the destruction of German records, the inside layout of the "Command Tiger" is not fully documented, and no complete example tanks survive. For any model company to produce a "Command Tiger" interior, they must make some guesses about its contents.
However, we do know the layout of the inside hull [1] , and some details of the turret [2] . Ustar's preliminary CAD images show that most of that information has not been used in this kit. Only some of the largest "Command" items are provided in the model; e.g. the turret's radio set is there, but not the chair for its operator.
---
History of Tiger S04
On 14 January 1944, in a tiny village in central Ukraine, Untersturmführer Wittman was awarded the Knight's Cross in a brief ceremony [1, see page 121] . A photographer captured Wittman, his crew, and - most important for us - his then Tiger, numbered "S04".

But this was not Wittman's only Tiger. He had fought the battle of Kursk in another one, but his unit left their armour behind when they transferred to Italy in August 1943 [1, see page 118] . There, they were issued new Tigers. Wittman got Tiger "S21" and his company commander, Hauptsturmführer Kling, must have got "S04". The unit returned to the Ukraine in October 1943 and resumed battle.

On 30 December 1944, Wittman took over command of the company and therefore, in theory, "S04" became his vehicle. He reportedly disliked the "Command Tiger" variant, because it carried less ammunition than normal. But even if he continued to use standard Tigers, it was "S04" that he was photographed with.

Photos from the ceremony show 88 "kill rings" on the tank's gun barrel. They were probably painted for the photographer and removed soon afterward, because Wittman's unit was very wary of drawing attention to their commanders' tanks. That is why they named this Tiger "S04" intead of "S01", and it is why - months later - they had an "007" instead of an "001".

As a Command Tiger, "S04" carried two radios and was intended to be a mobile command post. But it had an 88mm tank gun and could fight like any other Tiger [1, see 3.2.5] . At the time of the photographs, "S04" was configured as a Sd.Kfz.268.
My ongoing review and comments;
These are reviews or examinations of the kit;
TIGER1.INFO is not responsible for the content of external sites.