Scale: 1 / 48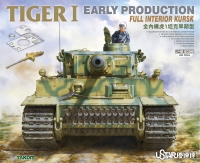 The kit's background
Operation Citadel was a huge, month-long Axis attack launched against the Soviet armies in July 1943. It was intended to cut off a 250km bulge in the front lines and isolate entire Soviet armies. But it was repeatedly delayed by the German high command, partly to wait for the construction of more Tiger tanks. The Soviets had time to prepare a "defence in depth" approach that nullified the German's "Blitzkrieg" tactics.

Tiger units that participated in Citadel were Panzergrenadier Division "Großdeutschland", s.Pz.Abt.503, s.Pz.Abt.505, SS Panzergrenadier Division LSSAH, SS Panzergrenadier Division "Das Reich", and SS Panzergrenadier Division "Totenkopf". On paper they had a total of 151 Tigers between them. The number of Tigers lost in combat during the operation is reported as 18.

These units had been operating Tigers for months, so they owned tanks built at various times, with different features. There is no canonical "Kursk" version of the Tiger.
This is a medium-scale Tiger kit with a full interior. It is not yet released, but we have been shown some CAD images. I can make some observations, with the proviso that the final release may not match what we can see now.
The kit builds an Early Tiger. The CAD images show a Tiger of about March 1943. It is not clear whether any optional parts will be provided to make later or earlier versions. We have been promised four decal schemes, which is not many considering the number of Tigers at Kursk.
The kit's interior design appears to be based on the 1/35 kit "Tiger Eastern Front" by Rye Field Models. I draw this conclusion because a couple of mistakes made by Rye Field appear in this new kit also. Rye Field have the most accurate and detailed Tiger interior, challenged only by a mixed-media kit from Model Factory Hiro. Although scaled down and somewhat simplified, it should make this 1/48 kit an outstanding one.