Scale: 1 / 48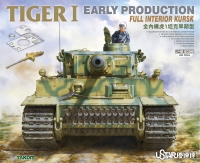 ---
The kit
This is a medium-scale Tiger kit with a full interior. It builds an "Early Tiger" dating from about March 1943. That build date cannot be varied, but the kit does offer two of the three possible mantlet types of that time. Both metal and plastic gun barrels are included.
Six Tiger units fought at Kursk, and the kit has decals from two of them, covering two Tigers from each unit for a total of four schemes. Three of these schemes are directly copied (including the artwork) from the "Kursk Tiger" kit of Border Models.
The kit's interior design breakdown resembles that of the 1/35 kit "Tiger Eastern Front" by Rye Field Models. I say this because a few mistakes made by Rye Field are repeated here. But Ustar have corrected some of Rye Field's mistakes, and consequently this is the most accurate Tiger interior model kit in the world today.
---
The historical context of this kit
Operation Citadel or "the Battle of Kursk" was a huge, month-long Axis attack launched in July 1943. It was intended to cut off entire Soviet armies. But it was repeatedly delayed, partly to wait for the construction of more Tiger tanks. The Soviets had time to prepare a "defence in depth" that nullified the Germans' "Blitzkrieg" tactics.

Tiger units that participated were Panzergrenadier Division "Großdeutschland", s.Pz.Abt.503, s.Pz.Abt.505, SS Panzergrenadier Division LSSAH, SS Panzergrenadier Division "Das Reich", and SS Panzergrenadier Division "Totenkopf". On paper they had a total of 151 Tigers between them. The number of Tigers lost in combat during the operation is reported as 18.

Despite the name of this kit, there was no canonical "Kursk" version of the Tiger. The battle of Kursk involved every version of Tiger built over the previous 8 months.
My ongoing review and comments;
These are reviews or examinations of the kit;
TIGER1.INFO is not responsible for the content of external sites.