Scale: 1 / 35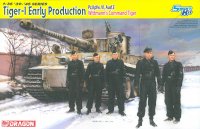 The kit's background
On 18 January 1944, a propaganda photo shoot was arranged for Untersturmführer Michael Wittmann and his Tiger crew. He and his gunner Bobby Woll had just been awarded the Knight's Cross. The men were photographed in front of a Tiger, number "S04".

It is not clear whether "S04" was Wittman's Tiger at this time. His original Tiger had been "S21" but on promotion to company commander three weeks before, Wittman may have taken over "S04".

The 88 "kill rings" on the tank's gun barrel were probably painted specifically for the photos. Many of those rings had been earned by Tiger "S21".

"S04" was not an ordinary Tiger. It was an Sd.Kfz.268, for liaison between the Tiger company and the Luftwaffe. It had two antennae and several other special features. Its turret front had no hole for an MG. The internal layout was also non standard.
My ongoing review and comments;
These are other reviews of the kit;
TIGER1.INFO is not responsible for the content of external sites.