Scale: 1 / 35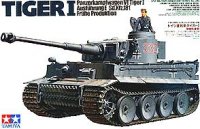 This is Tamiya's current representation of an "Early" Tiger, replacing their original kit from the 1970s. The parts in the kit are accurate for Tigers built in the period March to May 1943 (some parts are optional). Tigers from this period served in Africa and on the Eastern Front.
The kit has decals for specific Tigers from 5 different units; but not all of the decals correspond to the plastic. The tracks are flexible. A full commander figure is included. The kit competes with Dragon's "Tiger 131", Academy's "Tiger-I Early Production" and Academy's "Tiger-I Operation Citadel" among others.
My ongoing review and comments;
These are reviews or examinations of the kit;
TIGER1.INFO is not responsible for the content of external sites.