Scale: 1 / 35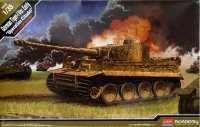 The kit's background
Operation Citadel was a huge, month-long Axis attack launched against the Soviet armies in July 1943. It was intended to cut off a 250km bulge in the front lines and isolate entire Soviet armies. But it was repeatedly delayed by the German high command, partly to wait for the construction of more Tiger tanks. The Soviets had time to prepare a "defence in depth" approach that nullified the German's "Blitzkrieg" tactics.

Tiger units that participated in Citadel were Panzergrenadier Division "Großdeutschland", s.Pz.Abt.503, s.Pz.Abt.505, SS Panzergrenadier Division LSSAH, SS Panzergrenadier Division "Das Reich", and SS Panzergrenadier Division "Totenkopf". On paper they had a total of 151 Tigers between them. The number of Tigers lost in combat during the operation is reported as 18.

These units had been operating Tigers since at least February, some of them since December 1942. They therefore entered Citadel with a mix of Tigers of different versions, and there is no canonical "Operation Citadel Tiger". Tanks participating in the operation might or might not have the standard turret bin, standard side skirts, S-mine equipment or spare tracks on the turret. In fact, almost any variant of "Early Tiger" could be found at Citadel.
This kit builds a Tiger of the February/March/April 1943 version. This kind of Tiger was used on all fronts including Africa and Italy. One example is preserved in Bovington Museum.
The kit's decals are specific to Operation Citadel. However two of the three decal options are for Tigers that this kit cannot build. Aftermarket parts, or decals, would be needed to accurately represent more than one Operation Citadel Tiger.
My ongoing review and comments;
These are other reviews of the kit;
TIGER1.INFO is not responsible for the content of external sites.