Scale: 1 / 35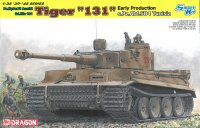 This model kit from Dragon builds Tiger "131", the world's only working Tiger tank. The model represents the Tiger as it was on the day of its capture in 1943.
The decals and features of this kit are based on WW2 photographs of Tiger "131". The kit's markings are more correct than the ones currently painted on the real tank.
Tiger "131" belonged to the 504th Heavy Tank Battalion, sent to Tunisia to counter the Allies' invasion, Operation Torch. (All Tigers in Africa were assigned to the 5th Panzer Army, not to Rommel's Afrikakorps.)
This Tiger probably saw no action until 24 April 1943, when German and British troops were fighting on a low hill called Gueriat el Atach. Both sides had support from tanks behind them, making the hill a dangerous place for any vehicle. Tiger 131 climbed the hill alone, apparently to duel with the British Churchills on the other side. When it appeared, they damaged it with accurate fire. The Tiger's crew quit. The British were interested in the new heavy Panzer, so they took Tiger 131 to the UK. It is now the star of The Tank Museum, restored to running order.
The kit provides decals for two other Tigers with very different paint schemes. The tracks are DS plastic. There is no interior or figures. Photo-etch is provided, including engine grilles.
This kit is very similar to Dragon's Tiger I 'Tiki'.
My ongoing review and comments;
These are reviews or examinations of the kit;
TIGER1.INFO is not responsible for the content of external sites.