About this detail of the Tiger
Dragon's kit #6820 provides decals for Tiger "121" of s.Pz.Abt. 505. There is scope for different paint schemes when the "121" decals are used.
There is some dispute about the colours of the Tigers in this battalion; one German account states that their new Tigers were supplied in "Tropical" colour. Certainly they were operating in the far south of Russia, for which the "Tropical" paint schemes were intended.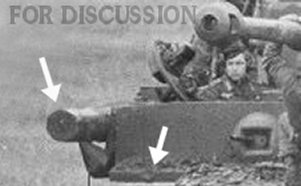 The earliest photos of Tiger 121 show it in muted camouflage, with its Feifel filters fitted, barbed wire attached to the sides, and in one photo, a log carried on its right side. Tigers of this battalion often carried logs to help them escape mud.

During this time, Tiger 121 lost its right front mudguard and acquired a dent in the armour there. The mudguard was never replaced.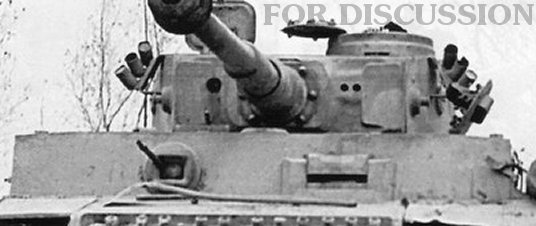 It's not clear what colours were used. Since the Tiger was built in February 1943, at the same time as the "Bovington" Tiger, we would expect it to be delivered in the first Tropical scheme. Certainly some of the other Tigers received by this battalion at the same time, which were photographed when clean and new, do appear to have that paint scheme. Tiger 112 here is an example. Tigers delivered to the battalion a few weeks later have a much higher-contrast camouflage scheme, which could possibly be the second set of Tropical colours. But it's not possible to be sure.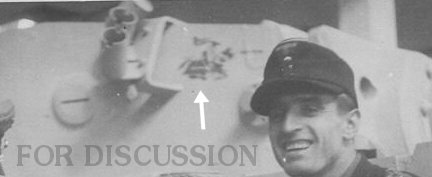 A number of photos show Tiger 121 in a garage, probably in early 1944. The tank is painted entirely in a light colour, and the only markings are the "Ritter" logos on the turret sides. It's not clear what the overall colour is; it's not white, but it could be either RAL 8020 or RAL 7028. At this time the Feifel equipment is already removed.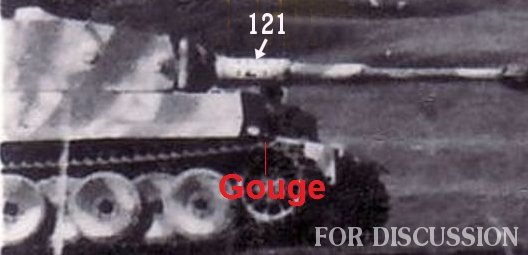 Finally, there are photos from 1944 showing Tiger "121" in a diagonal stripe pattern. Once again, we don't know the colours used. Several other Tigers of the battalion had similar schemes, and in some cases the stripes seem to have different levels of darkness alternating, so we can guess that the standard red/green/tan paints were used. But it's possible that these are grey stripes over beige, i.e. the second Tropical paints. Notice that the "Ritter" logo is still present and has been partially overpainted. The right-hand smoke launcher assembly is missing here.