Scale: 1 / 35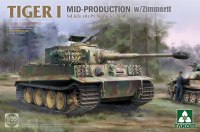 The topic of this page is an unreleased kit. The commentary describes CAD preview images that have been published by Takom; the plastic kit may differ from those images. The page will be updated as and when more information becomes available.
---
The kit
This is one of Takom's first three 1/35 Tiger kits, which are being released together and will probably share a large fraction of their parts. This one builds a "Mid" Tiger from the end of the "Mid" period (after October 1943). The other two kits are a Tiger I late production with the Command option, and a Tiger I mid Otto Carius. All of these subjects have been covered by other model companies in the past.
This kit includes Zimmerit, a metal gun barrel, transparencies for the periscopes, 3-piece individual link tracks with an assembly jig, metal tow cables and P.E. mesh screens for the rear deck. It is the first Tiger kit to provide the umbrella for the cupola. Optional canvas covers are given for the MG and muzzle brake. There are also a number of diorama accessories including a ladder, rolled blanket, box of food, helmets, bucket, jerrycans etc.
My ongoing review and comments;