Scale: 1 / 35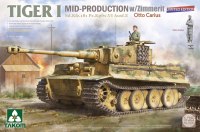 ---
The kit
This kit is as yet unreleased. It is one of Takom's first three 1/35 Tiger kits, and since they are being released together, we can expect a large fraction of parts to be shared with their Tiger I mid production and Tiger I late production.
This kit builds a "Mid" Tiger that was commanded by Otto Carius in the summer of 1944. This was his second Tiger tank. Several photos of it exist, plus a few seconds of newsreel. Otto Carius is photographed in the cupola.
This particular Tiger cannot be easily provided as a decal option in a standard "Mid Tiger" kit, because it was fitted with the old flat-faced tracks, while other Tigers of this vintage had the new ridged tracks. In fact this Tiger used to have the ridged tracks when it was new; they can be seen in photos from early 1944.
Tiger "217" had a Tiger (P) mantlet, very probably recycled from a worn-out Tiger sent back to Henschel. By the end of 1944 there should have been none of these mantlets left unused. But, as well as having features from past Tigers, "217" had some features associated with later ones; the notched hull front edges, and the lack of a shovel on the glacis plate.
As well as reproducing the unusual features of this Tiger, the kit includes a full-length figure of Otto Carius himself, suitable for inside or outside the tank (it has no intercom equipment.)
This kit includes Zimmerit, a metal gun barrel, transparencies for the periscopes, 3-piece individual link tracks with an assembly jig, metal tow cables and P.E. mesh screens for the rear deck. There are also a number of diorama accessories including an oil drum, buckets, jerrycans etc.
My ongoing review and comments;