Scale: 1 / 35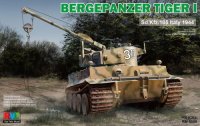 The kit's background
"Bergepanzer Tiger 1" is a Tiger kit from Rye Field Model. It represents a unique vehicle used in Italy in 1944.
This kit competes with DR6850 by Dragon/Platz. Neither model can be perfect because we lack information about the vehicle's crane; this kit therefore contains some speculative crane parts.
Rye Field have made several version errors in this kit, giving it features appropriate to later or earlier types of Tiger.
This tank started life as a Befehlstiger (Command Tiger) but, due to production shortages, it was converted to be a normal Tiger while still at the factory. The smaller Command fittings were left in place, but it now got a coaxial MG. It was also given a radio set in the turret for controlling Borgward vehicles. Therefore it had one standard antenna on its left side, and a smaller controller antenna on the turret's right wall.

The tank was issued to the 508 battalion, and we have two colour photos of it in an Italian depot.

Early in 1944 this Tiger suffered battle damage, including hits to the turret rear and a fire. It's not clear what the damage was, but the fire was probably external only, because the tank was now considered unusable and yet could still drive. The battalion workshop converted it to be a "demolition charge layer", according to their journal. Photographs show that they also added recovery equipment. We have no further information from the German side.

In May 1944 the Allies found this Tiger abandoned in the Anzio region, apparently due to engine trouble. A further 12 photographs of it were made. In some photos it has been moved slightly and stripped of some wheels and parts, but it is clearly the same Tiger. These photographs are the only record of the tank's special equipment.

The gun was removed. The Zimmerit was mostly gone from the turret walls, due to the fire. Most of the spare track hangers were removed. The hull had towing hitches added on front and back. A crane and winch were added to the turret. The crane is obviously inadequate for vehicle recovery, so we can believe that it is for charge laying as stated.
My ongoing review and comments;
These are other reviews of the kit;
TIGER1.INFO is not responsible for the content of external sites.