Scale: 1 / 35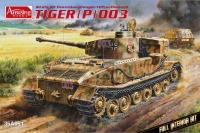 [1]
---
The kit
This kit builds a unique tank that served on the Eastern Front in 1943-44. The kit has interior detail throughout. Its surface is textured to represent Zimmerit.
---
Historical background
Two firms, Porsche and Henschel, vied to design Germany's first heavy tank. Porsche offered the Tiger (P), a large electrically-driven vehicle. It lost the competition.

But political connections already got Porsche an order for 100 vehicles. About 10 were fully completed, and the rest were converted to "Ferdinand" tank destroyers.

Meanwhile, Henschel's winning design urgently needed a turret. A version of Porsche's turret, with an added floor and hydraulic traverse, was designed for it.

The completed Tiger (P) stayed in Germany and were used for training. One of them was acquired by a "Ferdinand" unit to serve as their command vehicle.
This kit represents that command tank, which was numbered "003".
---
Accuracy of the kit
Tiger "003" is drawn in "Panzer Tracts 6". This model kit differs in some obvious ways from those drawings. A close study of the photographic record reveals that the kit is correct to do so.
The insides of the Tiger (P) are poorly documented. No vehicles survive today. We seem to have no design diagrams, and only photographs of the vehicle's wooden mockup. But in that wooden model, many features match the "Ferdinand" (which used a similar chassis) and the Tiger(H) (which had a similar turret). Because those vehicles are well known, we have some knowledge of the interior, but there are large gaps in that knowledge.
Therefore any interior model of "003" will be partially speculative. Amusing Hobby had to guess about some features, and if we disagree with their decisions, neither of us can be proven wrong. But in certain respects this kit is almost certainly wrong, as I will discuss.
My ongoing review and comments;
These are other reviews of the kit;
TIGER1.INFO is not responsible for the content of external sites.