Scale: 1 / 35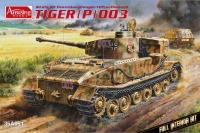 The Tiger (P) was a prototype tank built in a small number of examples in 1942-43. One of them was acquired by a combat unit and served on the Eastern Front in 1944. It is a unique tank and the subject of this kit. Its turret number was "003".
Amusing Hobby have released several "Panzer '46" kits, representing tanks that were never made but only proposed or planned. Although Tiger "003" existed and was photographed, it seems likely that an element of speculation and guesswork will inform this new kit also. The vehicle is well known and has been carefully represented by other kit manufacturers, but Amusing Hobby are taking a huge step beyond them by providing the interior of the vehicle too.
The interior is where the kit may go into the realm of speculation. Why? Because we have very little information about this tank's insides. We know that its turret closely resembles the Tiger (H) turret, which we are familiar with, but the two belonged to different projects and had diverged since 1942. By 1943 the Tiger (H) team had redesigned their turret interior twice. We have only limited knowledge of its original version, and we don't know how closely that resembled the first Tiger (P) turrets, and we don't know how the Tiger (P) may have evolved before tank "003" was built.
Even if we had full information about a Tiger (P) interior, this tank "003" is known to be a modified, unique vehicle with extra radio equipment installed. We have no information about that beyond the bare radio set itself. We don't even know where inside this tank it was placed.
I will conclude by saying that if Amusing Hobby know the true internal layout of Tiger "003", then they have discovered important new information unknown to historians. But I suspect that this kit is filled out with guesswork.
These are other reviews of the kit;
TIGER1.INFO is not responsible for the content of external sites.