Scale: 1 / 35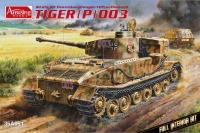 [1]
The Tiger (P) is not my subject and I am not qualified to analyse most of this kit. But its turret and interior fittings are shared with the Henschel Tiger, my area of expertise. My comments will be limited to what I do know about; other reviewers will surely have more to say.
---
Features of the kit
This kit builds a very rare tank in the Tiger family, the Tiger (P). Only ten of these vehicles were completed and only one of them served with the military. It is the subject of the kit.
Other manufacturers have tackled this subject before. Amusing Hobby breaks new ground by providing a full interior for their model, but it has major accuracy problems.
The kit's surface panels have "Zimmerit" texture similar to the real tank.
---
Interior accuracy problems
Because there are no surviving examples, and because most German documentation no longer exists, the internals of this vehicle are not well known. When a kit is claimed to have a "full interior", we may ask: based on what? To my knowledge, Amusing Hobby have not answered that question.
We do have a few photographs of a simple wooden mockup created during the tank's design process. This kit's chassis crew compartment seems to be based on those photos, but with additional details that are probably guesswork. Many of the small items of equipment that were carried inside typical Panzers are not supplied in this kit.
The kit's turret has a separate origin. Amusing Hobby give us a turret from the Henschel Tiger - a different tank! The two tanks' turrets did look very similar from outside, but they were not interchangeable. Much of this kit's turret is known to be correct for the Tiger (P), but we also know that major parts of it are wrong.
In summary, while nobody can guarantee us a completely "right" interior for this tank, Amusing Hobby have not complied with what we know about it.
---
Historical background
Two firms, Porsche and Henschel, vied to design Germany's first heavy tank. Porsche offered the Tiger (P), a large electrically-driven vehicle. It lost the competition.

But political connections already got Porsche an order for 100 vehicles. About 10 were fully completed, and the rest were converted to "Ferdinand" tank destroyers.

Meanwhile, Henschel's winning design urgently needed a turret. A version of Porsche's turret, with an added floor and hydraulic traverse, was designed for it.

The completed Tiger (P) stayed in Germany and were used for training. One of them was acquired by a "Ferdinand" unit to serve as their command vehicle.
This kit represents that command tank, which was numbered "003".
My ongoing review and comments;
These are reviews or examinations of the kit;
TIGER1.INFO is not responsible for the content of external sites.