The Tiger(P) had a motor to traverse its turret. We haven't found images of that motor. There is a German sketch that mentions "Elektrischer Turmantrieb" [1, see page 30] , so it was an electric motor.
We also don't know where this motor was placed in the turret; left side, right side, high up, or low down. It was surely adjacent to the turret ring, for practical reasons, but that's all we can say.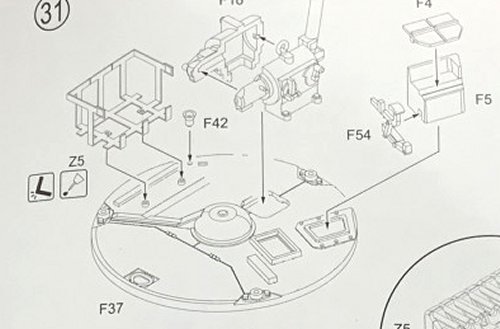 Amusing Hobby have copied a complete Henschel-Tiger turret into this Porsche-Tiger kit. That includes a hydraulic traverse motor. It's the two large pieces at top middle of this image (from the instructions).
The kit's hydraulic motor cannot possibly resemble the electric motor that the real tank had. For one thing, the hydraulic motor (in Henschel's Tiger) is on the floor because it takes power from the main transmission shaft. But Porsche's electric motor didn't need to be down there.
This feature of Amusing Hobby's kit should not exist. Unfortunately we have no images of the electric motor that should replace it.
[1] Der Panzerkampfwagen VI und seine abarten, Walter J. Spielberger, Motor Buch Verlag