Scale: 1 / 35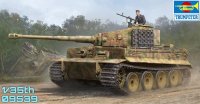 Trumpeter's Mid Tiger kit is apparently a close relation of its Late Tiger kit. It has a large decal sheet with eleven options, some of them incorrect for this type of Tiger.
This kit will apparently compete with Tamiya's Mid Tiger kit, Dragon's "s.Pz.Abt.506 Tiger", Dragon's deleted "Tiger I Mid-Production w/Zimmerit" and Rye Field's "Tiger I Middle Production".
My ongoing review and comments;
These are reviews or examinations of the kit;
TIGER1.INFO is not responsible for the content of external sites.