Scale: 1 / 35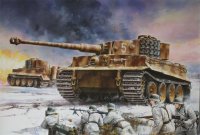 The kit's background
This kit is a re-release of Dragon's Mid Tiger kit, 6700. The decal options have been changed; there are now four options, two of them repeated from the 6700 kit, two of them new. The fine Zimmerit of the 6700 kit is still included.
My ongoing review and comments;
These are other reviews of the kit;
TIGER1.INFO is not responsible for the content of external sites.