Scale: 1 / 35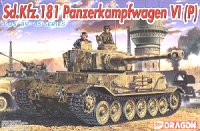 ---
The kit
This kit represents a single unique tank that served on the Eastern front in 1943-44. It has flexible tracks, photo-etched air vent covers and metal tow cables.
---
Historical background
Two firms, Porsche and Henschel, vied to design Germany's first heavy tank. Porsche offered the Tiger (P), a large electrically-driven vehicle. It lost the competition.

But political connections already got Porsche an order for 100 vehicles. About 10 were fully completed, and the rest were converted to "Ferdinand" tank destroyers.

Meanwhile, Henschel's winning design urgently needed a turret. A version of Porsche's turret, with an added floor and hydraulic traverse, was designed for it.

The completed Tiger (P) stayed in Germany and were used for training. One of them was acquired by a "Ferdinand" unit to serve as their command vehicle.
That one Tiger(P) to see service is the subject of this kit.
My ongoing review and comments;
These are reviews or examinations of the kit;
TIGER1.INFO is not responsible for the content of external sites.