Scale: 1 / 35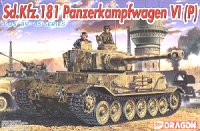 The kit's background
Two firms put forward competing designs for Germany's first heavy tank. The Tiger (P) lost the contract, though its turret was used in what became the Tiger E.
But it took time for the Army to make its decision. Meanwhile, many Tiger (P) were completed, and crews of the 502nd Heavy Tank Battalion trained on them.
Months later, the unused Tiger (P) were converted to "Ferdinand" tank destroyers and served at the Battle of Kursk with the 653rd Tank Destroyer Battalion. And serving alongside them, in the command role, there was one single Tiger (P); the subject of this kit.
The kit has flexible tracks, photo-etched air vent covers and metal tow cables. Decals for the single real vehicle are provided. The turret accurately captures the asymmetrical shape of the real one.
My ongoing review and comments;
These are other reviews of the kit;
TIGER1.INFO is not responsible for the content of external sites.