Scale: 1 / 35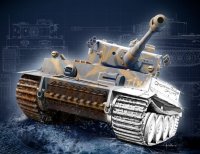 The kit's background
The colours of "Das Reich" Tigers have been disputed. Many artists draw them in tan stripes over grey. I believe this can't be true.

According to Doyle and Jentz, the DR Tigers were painted in a "tropical" scheme at first. We know that the Tiger factory was using the original "tropical" paints, RAL 8000 and RAL 7008, when these Tigers were built. Photographs of "Das Reich" in the winter of 42/43 support this.

The dispute arises because these Tigers got repainted in the Spring. Their summer camouflage is in question. But they were photographed in April while still clean. If the standard grey paint (Dunkelgrau) had been used it would appear very dark, but we don't see a very dark colour. Therefore I don't believe these Tigers were ever grey.

They got a variety of camouflage styles; perhaps each crew painted its own tank. In some cases we can count at least 3 colours, although the photos are monochrome. One of the colours is light and the other two are about equally dark. This strongly suggests that the standard colours of 1943 were used; red, olive green and "dark yellow".

Tiger "Tiki" had a pattern that seems unique. But on examination we see that it's simply the result of the light colour being applied last.
My ongoing review and comments;
These are other reviews of the kit;
TIGER1.INFO is not responsible for the content of external sites.