About this detail of the Tiger
How many Tiger tanks were painted in the famous German dark grey colour?
In popular culture of decades ago, Tigers were usually imagined as grey. Those with more historical knowledge might acknowledge that some Tigers, operating in Africa, were "sand".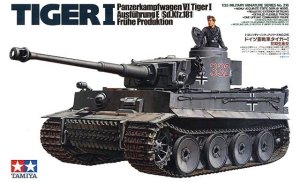 This 1997 Tamiya model kit shows how Tigers were imagined. But the Tiger that it depicts, number "332", cannot have been grey in reality.
The grey paint was officially called "Dunkelgrau" or RAL 7021. It was very dark, almost black when new. It had been the official colour for newly built tanks since 1940, before the Tiger's introduction.
But researchers then informed us that "Dunkelgrau" itself got cancelled in February 1943, and a tan colour called "Dunkelgelb" became the new default. This change occurred during the production run of the Tiger E. It prompts the question: how many Tigers were painted grey?
A related question should be answered first. What colour were the African Tigers? Historians told us about two successive "tropical" camouflage schemes that the Germans mandated for tanks. The first one had a greenish hue and dated from 1941. The second one, dating from 1942, was lighter and better suited to a sandy environment. Was it used on the African Tigers?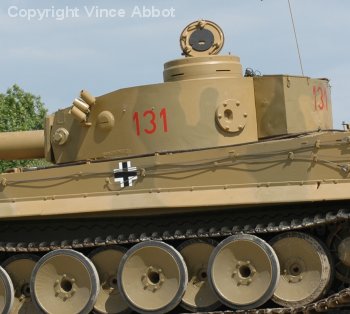 The 1990s restoration of a surviving African Tiger, at Bovington Museum, provided a surprising answer. Although constructed in February 1943, this Tiger was painted in the first "tropical" scheme. Most likely the Tiger factory (Henschel) was using up their stock of old 1941 paint.
The implication is that all of the Tigers sent to Africa were painted in the first "tropical" scheme. Photographs support this. So, counting all the Tigers that were shipped to Africa for s.Pz.Abt. 501 and 504, that's 31 "tropical" Tigers. Now, at the time when "Dunkelgelb" was introduced, the factory had built about 150 Tigers. Can we subtract 31 and conclude that about 120 of them were grey?
Not according to the historians Hilary Doyle and Tom Jentz. Their 1999 book, "DW to Tiger 1", contains this surprising statement, taken from what surviving German documents they could find:
"Tigers issued to Grossdeutschland, SS-LAH, SS-Das Reich, and SS-Totenkopf in December 1942 through February 1943 were painted in the Tropen camouflage scheme."
In other words, most of Russia was considered a "tropical" zone! Now, we must count the Tigers issued to those special units in the relevant time period:
Grossdeutschland = 9. SS-LAH = 10. SS-Das Reich = 10. SS-Totenkopf = 9.
So, we have 69 "tropical" Tigers of about 150. There could be no more than 80 grey ones, issued to the regular Army units. And their greyness is now in question. If southern Russia was a "tropical" zone, would the Army use "tropical" paint there, just like the specialist units? Doyle and Jentz don't quote any documents saying that, but perhaps the relevant documents did not survive.
We must look to photographs of the Tigers in question. First, there is s.Pz.Abt. 503, which was issued a batch of 20 Tigers in 1942, and another 10 around the time when grey paint was being discontinued. The first 20 were marked with white tactical numbers on their turrets, and (unfortunately for us) smeared with whitewash or white paint to match the environment.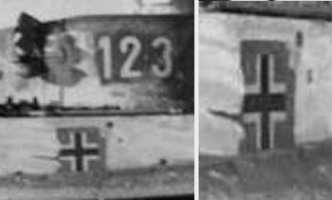 Over 100 photos of these 20 Tigers are known. I have examined them all, selecting those that seem to show new, clean tanks. For example, this photo shows Tiger "123". It has been whitewashed, but I believe it's a new arrival and the gaps in the whitewash reveal its original paint in good, clean condition. Comparing this colour to the black of the Balkenkreuz, it's hard to believe that it could be "Dunkelgrau". It's simply not dark enough.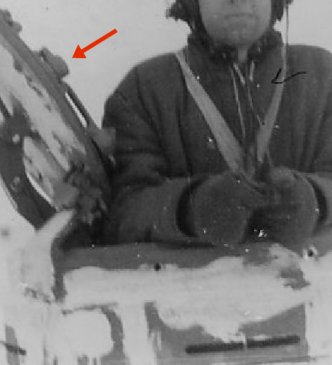 Here's Tiger 113, also crudely painted with whitewash. The cupola handle (arrowed) would have the original exterior colour, and since the hatch was usually closed, it would be almost as new. It's not dark enough to be Dunkelgrau.
So I'm concluding that these 20 Tigers bore "tropical" paint. That suggests the 10 Tigers delivered to this unit later would not have been grey either. I have not yet identified them, but I will ignore them for now.
That leaves us with about 50 possibly grey tanks.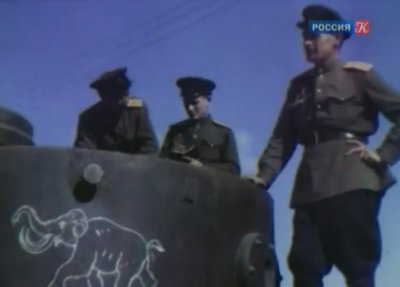 s.Pz.Abt. 502 were issued their first 9 Tigers in 1942. They were deployed at Leningrad, far in the north. And these Tigers were unquestionably grey. This WW2 colour film confirms it: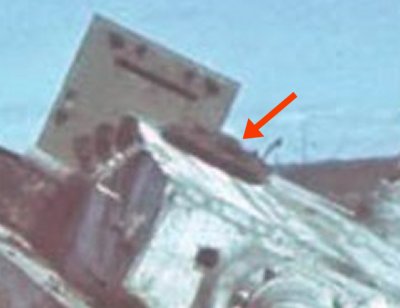 Three more Tigers arrived near Leningrad in early February. They appear to be very dark under their whitewash. This original colour photo shows the inside of an open hatch, which would have the best preserved paint. It does look too dark to be "tropical" and is certainly not "Dunkelgelb".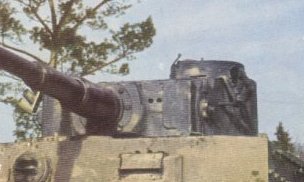 Another four Tigers arrived on 20 February. These have not been firmly identified in photos, but I'm going to assume they were grey also. This photo may depict one of them. The hull has been painted with mud but the turret has its original grey paint.
The second company of s.Pz.Abt. 502 was also created during this period, but before they had even left Germany, they were reassigned from Leningrad to Rostov as an emergency measure. Rostov is deep in the "tropical" zone. Nine Tigers were hurriedly finished up and sent to them. What colour were these Tigers?
We have no photos of these tanks before they got whitewashed, and unfortunately their whitewash was uniformly applied. There are very few gaps where we could find original paint.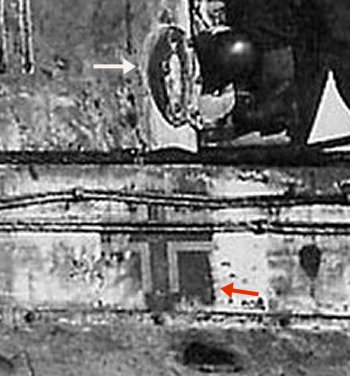 But given enough photos, you can find something. This is Tiger "211". There is a small patch of original paint by the Balkenkreuz for some reason. Also, the crew have worn away the whitewash on the edge of the pistol port. These areas are very dark and don't resemble the paint samples on, for example, Tiger "123". On the basis of this and other photos, I believe that these Tigers of 2/s.Pz.Abt. 502 were Dunkelgrau.
We are now left with about 32 Tigers that may have been grey. But, 20 of them went to s.Pz.Abt.504 and they were surely painted "tropical", based on their assignment to Africa, all known photos of them, and the one of them that survives today.
The last few Tigers that were issued in the time of grey paint were sent to s.Pz.Abt.505 (obviously in tropical paint), to the training school at Putlos (in the new 3-colour scheme), and to various testing grounds. Some of the latter may have been grey; we don't have enough photos to determine their colour.
So, out of 1350 Tigers built, I can count only 25 grey ones at present.