Scale: 1 / 35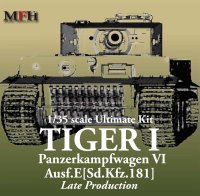 The kit's background
This Tiger kit was released in 2013 in a limited run. For that reason it was made in a mix of different materials, primarily white metal. It contains a full interior.
At the time of its release there was only one existing Tiger model kit with an interior, Academy's "Tiger-I Early Production". This kit's interior is much more accurate. (Since it build a "late" Tiger, the two interiors are not supposed to be the same; "late" Tigers did not have a set of storage boxes on their turret walls.)
To date, no other Late Tiger kit with an interior has been released by anybody.
Shortly after the release of this kit, Model Factory Hiro followed up with an "Early Production" Tiger.
My ongoing review and comments;
These are other reviews of the kit;
TIGER1.INFO is not responsible for the content of external sites.