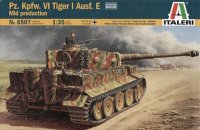 This is the first ever "Mid" Tiger kit to build the earlier version of "Mid", with Feifel filters, S-mine launchers and a pistol port. It has link-and-length tracks. Zimmerit is included, most of it molded on. There are photo-etch side skirts, exhaust shields and deck gratings.
The kit has parts to build either a Tiger from October 1943 with the abovementioned equipment, or the later "Mid" Tiger with a travel lock. The kit's tracks are the cleated type, which were introduced in October. The bulk of "Mid" Tigers with Feifels etc. did not have these tracks, so that is a limitation that could be addressed with aftermarket tracks.
Four sets of decals are provided, two for the earlier "Mids" and two for the later ones.
My ongoing review and comments;