Scale: 1 / 35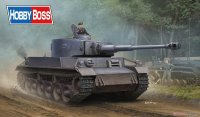 The "VK3001 (P)" was designed by the Panzer Commission headed by Dr. Porsche to meet Germany's 1941 requirement for a heavy tank. It featured an electrical transmission. Several types of guns were proposed for it, resulting in the creation of the famous 88mm KwK36. The tank was also known as "Leopard" and "Type 100".
The "VK3001 (P)" never got past the prototype stage and never went into service. Only two hulls were assembled and the turret existed only on paper. The project got cancelled because the requirements got changed. This model kit therefore represents an "alternative history" and speculates about what might have been.
The VK3001 designers immediately created a heavier tank, "VK4501" to meet the new requirements. It was very much a rework of the same design, with thicker armour. Hobby Boss have therefore completed the unfinished "VK3001" design by adding a "VK4501" turret.
The kit provides generic tactical numbers and crosses on its decal sheet. The kit suggests a grey paint scheme, but a "tropical" scheme would be more likely because there were very few grey Tigers.
My ongoing review and comments;
These are reviews or examinations of the kit;
TIGER1.INFO is not responsible for the content of external sites.