Aspects of the event
Description
Tiger 131 of s.Pz.Abt. 504 was captured by British forces in Tunisia. It was driven to a vehicle storage area called "Red Cap Alley" and parked there for a time before driving to Tunis.
"Red Cap Alley" was an area reserved by the British Army to store damaged tanks and other vehicles for repair. It was patrolled by military police, hence its name. The "alley" was actually an open area of rolling fields four kilometers south of Medjez el Bab, at the foot of Djebel al Mughrah. It was elevated about 100 meters above the Medjez plain and crossed by a couple of secondary roads and a stream.

Looking north from Red Cap Alley we can see the Medjez plain, and Medjez el Bab at the right.

Here, we are looking down on Red Cap Alley from a distance of 2km, on the A3 highway. The Tiger and other tanks were stored to the right of this photo, between the distant hills. The Medjez plain is hidden in the mist beyond that.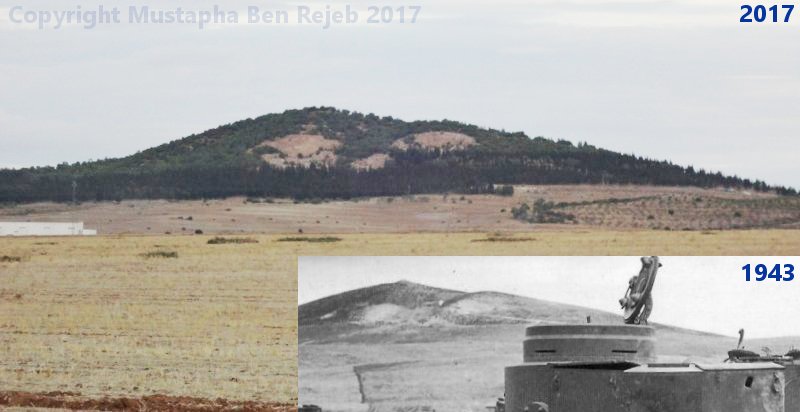 Photographs of Tiger 131 show that it was parked facing a hill. This is a modern photo of the hill, Djebel Bou Mous. The Tiger was 400m ahead of this camera, near the buildings.

Bou Mous is 100m high. Here, it can be seen from 3km to the south.
Tiger 131 stood alone in the field at first. Later a Kettenkrad and a Pak were placed beside it, and a ring of barbed wire was placed around these trophies. Technical experts examined the Tiger and repaired its battle damage, making its turret rotate again, and fixing what they could in the engine system. Eventually they took the tank for short test drives within "Red Cap Alley".
Location
Tiger 131 near Medjez el Bab in Google MyMaps

Photos
The URL of this event