Scale: 1 / 72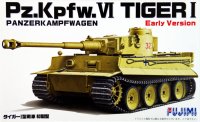 This is a 1/72 kit that was apparently "inspired" by some of the current 1/35 kits from other manufacturers. In particular, it has some internal details under the engine deck that are very reminiscent of standard Dragon parts.
Fujimi took the trouble to provide some almost invisible features inside the turret and under the engine deck. It would have been better to use that sprue space for optional external parts, because the kit does not quite correctly represent any real Tiger, and does not exactly match any of its own decals.
The tracks are link-and-length. All wheels are separate parts. Small tools are molded into the walls.
My ongoing review and comments;
These are reviews or examinations of the kit;
TIGER1.INFO is not responsible for the content of external sites.