Scale: 1 / 35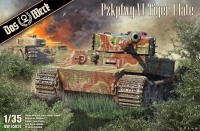 This newly announced Tiger kit is a rebox of Dragon's "Late Tiger with Zimmerit". Das Werk have apparently designed the decals only. Their instructions are very similar to the Dragon originals.
Dragon's Zimmerit surfaces seem to be unchanged here. This kit's tracks are the flexible-band type, but I don't know what kind of plastic they are made of. No transparent parts are included; Dragon used to have eight transparent periscopes, but here they are opaque. The only photo-etch in Das Werk's release is the four deck screens. The internal baffle plates for the main fans are omitted, which is an accuracy error, but it's not visible unless you open the grille covers.
Das Werk's new decals address four Tigers from two units. Two of the four schemes are not correct for this version of Tiger and the kit cannot be easily modified to suit them.
My ongoing review and comments;