Scale: 1 / 35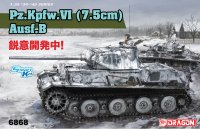 This model kit was apparently designed and tooled by another company (called Revosys). Therefore, although much of the VK3601 ended up in the Tiger tank's design, this kit does not use any of Dragon's Tiger sprues. Its tracks are single-link.
The kit provides an interior for the crew compartments (driver, radio operator, turret). Since the tank did not enter production, much of this interior is speculative and cannot be called "accurate" or not; however we can measure it against other German designs and especially against the Tiger E which was derived from this vehicle.
My ongoing review and comments;
These are reviews or examinations of the kit;
TIGER1.INFO is not responsible for the content of external sites.