Scale: 1 / 35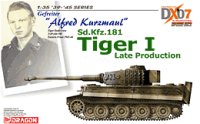 Dragon produced a series of annual releases, featured at their "DX" show, representing the vehicles of WW2 veterans. This Tiger kit was the item for the year 2007, and it attempts to reproduce the Tiger crewed by Gefreiter Alfred Kurzmaul.
Gefreiter Kurzmaul was photographed in front of Tiger "123" of s.Pz.Abt. 503. There are only 3 photos of the tank, and the model is based on them, with additional hints from other Tigers that appear to be coeval. The photos suggest the combination of the 25mm turret roof of the Mid Tiger with the hull of the Late.
The kit has flexible one-piece tracks and photo-etched air vent covers.
My ongoing review and comments;