Scale: 1 / 35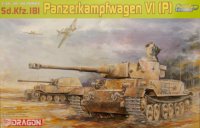 The kit's background
The Porsche-designed Tiger (P) heavy tank project was cancelled in 1942 with many vehicles already built and crews training on them. Only one of the tanks eventually saw combat, and it is the subject of this kit.
Dragon have re-released their original rendition of this unusual vehicle, now as a "premium" kit.
This edition adds a metal gun barrel, more photo-etch and vent screens, and individual link tracks. The turret has been made more accurate by the addition of an escape hatch, as well as other parts from Dragon's Tiger kit range.
My ongoing review and comments;
These are other reviews of the kit;
TIGER1.INFO is not responsible for the content of external sites.