Scale: 1 / 35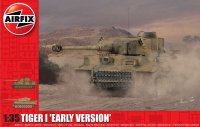 This Tiger kit has been announced by Airfix but not yet revealed. At time of writing, Airfix have released two Early Tiger kits, one with interior detail and one without. Both of them build identical versions of the Tiger.
It is not yet clear whether this future kit will have an interior, but it will almost certainly have the same sprues as one of the two existing kits. Its distinguishing feature is the decals, representing the famous Tiger "131" (but that vehicle would require a couple of new small parts to be represented correctly). The box art shows "131" in a harsh desert landscape that the real tank never visited.
As usual there will be two decal options. The second one is Tiger "211" operating in Sicily. Airfix' current artwork suggests to paint these two Tigers differently, although photographs strongly indicate they had the same colours.