Scale: 1 / 35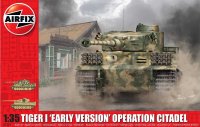 Operation Citadel or "the Battle of Kursk" was a huge, month-long Axis attack launched in July 1943. It was intended to cut off entire Soviet armies. But it was repeatedly delayed, partly to wait for the construction of more Tiger tanks. The Soviets had time to prepare a "defence in depth" that nullified the Germans' "Blitzkrieg" tactics.

Tiger units that participated were Panzergrenadier Division "Großdeutschland", s.Pz.Abt.503, s.Pz.Abt.505, SS Panzergrenadier Division LSSAH, SS Panzergrenadier Division "Das Reich", and SS Panzergrenadier Division "Totenkopf". On paper they had a total of 151 Tigers between them. The number of Tigers lost in combat during the operation is reported as 18.

These units had been operating Tigers for months, so they owned tanks built at various times, with different features. There is no canonical "Operation Citadel" version of Tiger.
This kit is a repackaging of an Academy kit, with new decals. It repeats an error in Academy's instruction sheet. For a discussion of the parts and the instructions, see my comments on Academy's "Tiger-I Operation Citadel".
Airfix have given their kit two decal schemes, for Tigers numbered "114" and "C01". The real Tiger "114" belonged to s.Pz.Abt. 503 and participated in Operation Citadel. The other option, "C01" of the "Grossdeutschland" division, did not arrive at the front until August and is not a "Citadel" Tiger.
To accompany this kit, Airfix published a summary about the battle. It is a fantastical piece of Soviet propaganda that greatly exagerrates the German losses.
These are reviews or examinations of the kit;
TIGER1.INFO is not responsible for the content of external sites.