Scale: 1 / 48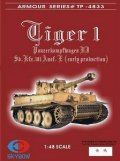 The kit's background
This kit is no longer available because its manufacturer, Skybow, is out of business. It is now available as AFV Club's "Tiger I EARLY VERSION" and I discuss it as such.
My ongoing review and comments;
These are other reviews of the kit;
TIGER1.INFO is not responsible for the content of external sites.