Scale: 1 / 48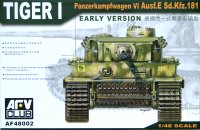 The kit's background
This kit builds a standard "Early" Tiger, as delivered in January and February 1943. Tigers of this era served on the Eastern front near Leningrad and Stalingrad, and in Tunisia in Africa.
The kit includes decals for 5 vehicles. There are flexible 1-piece tracks and photo-etched air vent covers.
The original release of this kit was "Tiger I (early production)" from Skybow, a firm that no longer exists.
My ongoing review and comments;
These are other reviews of the kit;
TIGER1.INFO is not responsible for the content of external sites.