Scale: 1 / 48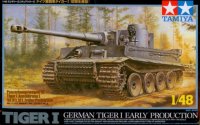 The kit's background
Tamiya's rendition of the Early Tiger in 48th scale resembles their 35th scale model.
The lower hull of this kit is a single piece of cast metal, giving it unusual weight and strength.
The kit has link-and-length plastic tracks. There is no photo etch, hence no air vent screens. Decals for 4 Tigers are included, all of them serving in Russia.
These are other reviews of the kit;
TIGER1.INFO is not responsible for the content of external sites.