Scale: 1 / 72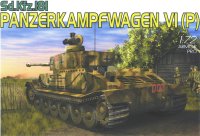 The kit's background
This is a small-scale kit that builds a unique Tiger. The "Porsche" candidate for the heavy tank contract was rejected in 1942, but a few were built, and a single example served on the Eastern Front, alongside "Ferdinand" tank destroyers that were built on the same chassis.
Dragon's small-scale rendition of this vehicle benefits from the experienced gained in rendering the corresponding 35th scale Panzerkampfwagen VI(P). It provides photo-etched vent covers and other parts, individual link tracks, and a turret with the correct escape hatch.
My ongoing review and comments;
These are other reviews of the kit;
TIGER1.INFO is not responsible for the content of external sites.