Scale: 1 / 35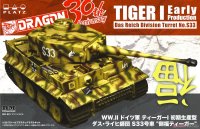 This kit was released for Dragon's 30th anniversary in 2018. It builds a Tiger that is well known for having a "lucky" Chinese symbol painted on it.
This kit is almost identical to Dragon's previous Tiger release, Tiger I Early Production "Tiki". In fact it contains all the decals and parts of that kit. The two Tigers, "S33" and "Tiki", were in the same unit; the heavy company of the "Das Reich" division. These Tigers took part in Operation Citadel (the Battle of Kursk).
This kit has DS soft plastic tracks, and PE parts including the engine grilles.
These are reviews or examinations of the kit;
TIGER1.INFO is not responsible for the content of external sites.