Scale: 1 / 48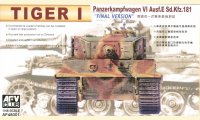 The kit's background
This kit represents the final version of the Tiger, as built in June and July 1944. The vehicle served on all fronts at the end of the war. Decals for 5 Tigers are included, covering the Western, Eastern and Southern fronts.
The kit has flexible 1-piece tracks and photo-etched air vent covers. The 'Zimmerit' surface texture is molded into the parts.
The original release of this kit was by the now defunct company "Skybow".
My ongoing review and comments;
These are other reviews of the kit;
TIGER1.INFO is not responsible for the content of external sites.