When the Tiger 1 was designed, some concepts and components from other Panzers were carried over into it, including a backup battery in the turret for the firing circuit.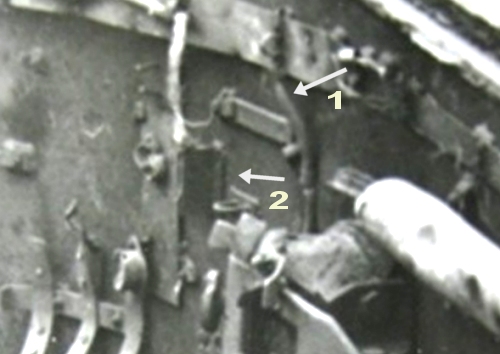 Although documentation of the Tiger's original turret layout is almost nonexistent, we can look into a very early Tiger, "132" of s.Pz.Abt.501 which was exploded in Tunisia. This is the inside left wall of its turret. The arrowed mounting strip (1) can only be for a backup battery; its length is a fit, and it's accessible to the gunner. It's especially telling that there is 5cm free space above the strip and 7cm below; because the battery extends to 4cm above its mounting tabs and 6cm below.
The dark rectangle (2) beside the battery position is exactly 60mm tall. That matches the size and shape of the battery's switch, discussed later in this article.
At some point early in the Tiger's history, when tanks were still being issued to s.Pz.Abt.501, the turret electronics were improved. A large circuit board was added. Some items were moved from the turret walls onto this board, including the backup battery and its switch.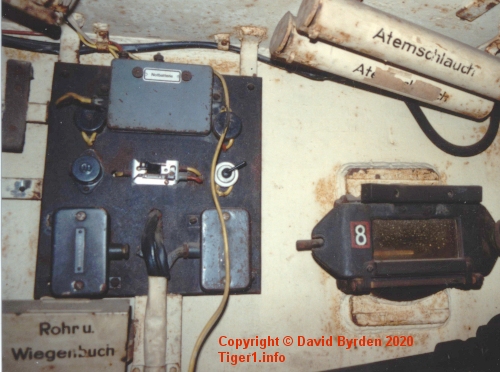 We can see this circuit board in Tiger "131" at Bovington museum, UK. This is again the left side of the turret. The battery is at the top of the board [1] .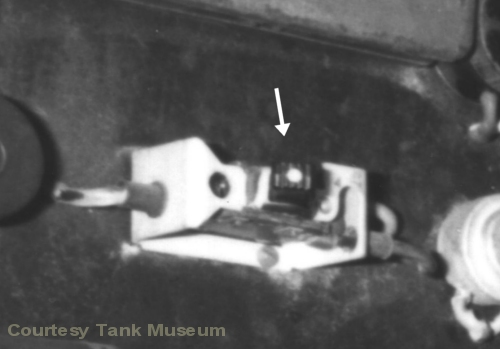 The small item in the middle of the board, arrowed here, is a switch. The protruding black lever, with a white dot, can be moved left and right. This is the example in Tiger "131" again, and it seems to have lost its protective cover. Given the position of the battery's terminals, the switch was probably pushed to the right to connect the emergency battery, and was normally pointing left as we see here.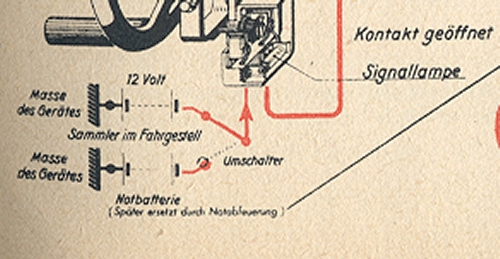 This diagram from the Tigerfibel [2, see page 57] shows the relevant circuit. At bottom left is the backup battery ("Notbatterie"). The switch ("Umschalter") selects between that and the main battery in the hull ("Sammler in Fahrgestell"). Both are grounded in the vehicle's frame ("Masse des Gerätes"). The 12V supply goes to the trigger lamp ("Signallampe").
The backup battery was probably present in all Tigers, including Command Tigers, until the turret was redesigned in mid 1943. Then the induction firing switch, which had already been provided to Tiger crews in the field [3, see 3.4.2.6] , was installed as standard in the "new turret" [4] , and the backup battery was omitted.
[1] Survey of Tiger 250122, at Bovington museum, by David Byrden
[2] Tigerfibel (user's guide for the Tiger 1)
[3] DW to Tiger 1